General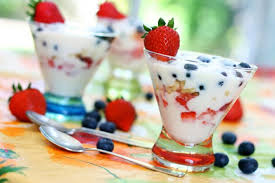 Yoghurt is produced by adding bacterial cultures to milk. The bacteria ferment the lactose (a type of sugar found in milk) and produce lactic acid, which in turn acts on milk protein to give yogurt its texture and its characteristic tang.
Yoghurt is nutritionally rich in protein, calcium, vitamin D, riboflavin, vitamin B6 and vitamin B12. Lactose-intolerant individuals may tolerate yoghurt better than other dairy products.
Yoghurt is an especially-valuable health food for both infants and elderly persons. For children, it is a balanced source of protein, fats, carbohydrates, and minerals. For senior citizens, who frequently have more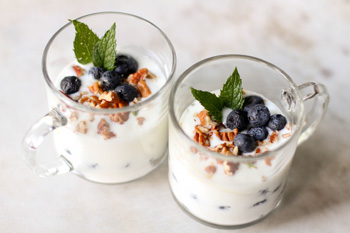 sensitive colons or who no longer produce much lactase, yoghurt is also a valuable food.
Genuine Foods (Greek) strained yoghurt
Many yoghurts contain added starch, gelatine or pectin to create thickness and creaminess artificially at lower cost. Manufacturers may also use milk powder or whey powder to achieve the desired texture.
In contrast, strained yoghurt is yoghurt which has been strained through a filter to remove the whey (the watery part of the milk), giving a much thicker consistency. In North America and Britain, strained yoghurt is commonly called "Greek yoghurt".
In order to produce 1 kg of plain yoghurt, Genuine Foods uses 4 litres of milk. In contrast, regular, commercially-produced yoghurt, in which a thickener is used to obtain the desired texture, 1 litre of milk is used to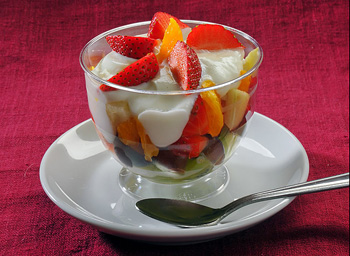 produce 1 kg of yoghurt. This makes commercial yoghurt much cheaper to produce, but it is an inferior source of nutrition in comparison to strained yoghurt.
Genuine Foods only produces strained yoghurt.
Our plain yoghurt contains only milk and bacterial cultures. We do not add any thickeners or sugar. Our yoghurt is also gluten-free. It is low in carbohydrates, because no thickener (typically starch) has been added. However, it is much higher in protein, due to the concentrated nature of the yoghurt.
Genuine Foods fruit yoghurt only contains our plain yoghurt, fruit and sugar. We produce our own syrups, using real fruit.